Ladies Tea!
"Spring in the Spirit"
May 6th * 2-4pm
All ladies 12 and over are welcome to this beautiful catered luncheon and tea. We will be encouraged with empowerment of the Holy Spirit by Jill Briscoe. There will be special gifts and prizes.
Tickets are $10/adults * $5/ages 12-18 (purchase on Sundays in foyer or church office)
Child care is available upon request
Click HERE to purchase your tickets online
Ladies Prayer Group * Wednesdays at 7pm in the Prayer Chapel
Starting Jan. 18 – "The Daniel Prayer" by Ann Graham Lotz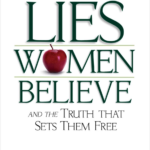 Mondays (1st and 3rd) * 7pm
TABLE TALK
– Book study featuring "Lies Women Believe" by Nancy Leigh DeMoss
* child care available at 6:45pm
Remember to pray for your Secret Sister!