Men's Fellowship Breakfast is held every 3rd Saturday morning at 7:30am.  Men of all ages are invited!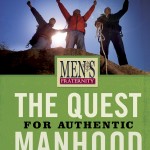 The Quest for Authentic Manhood
In this study you will closely examine your development as men, the wounds which often hold men back, and how those wounds can be healed.  You will discover the importance of male mentors for encouragement, the power of Dad, raising healthy sons and daughters, and the role of a man in marriage…among other topics.  Wednesdays at 6:30pm.  All men are welcome to join in at any time.
Men's Fishing Retreat-  May 31- June 1 -Horsetheif Reservoir
*Winter Retreat is Feb. 2014, at Trinity Pines in Cascade.